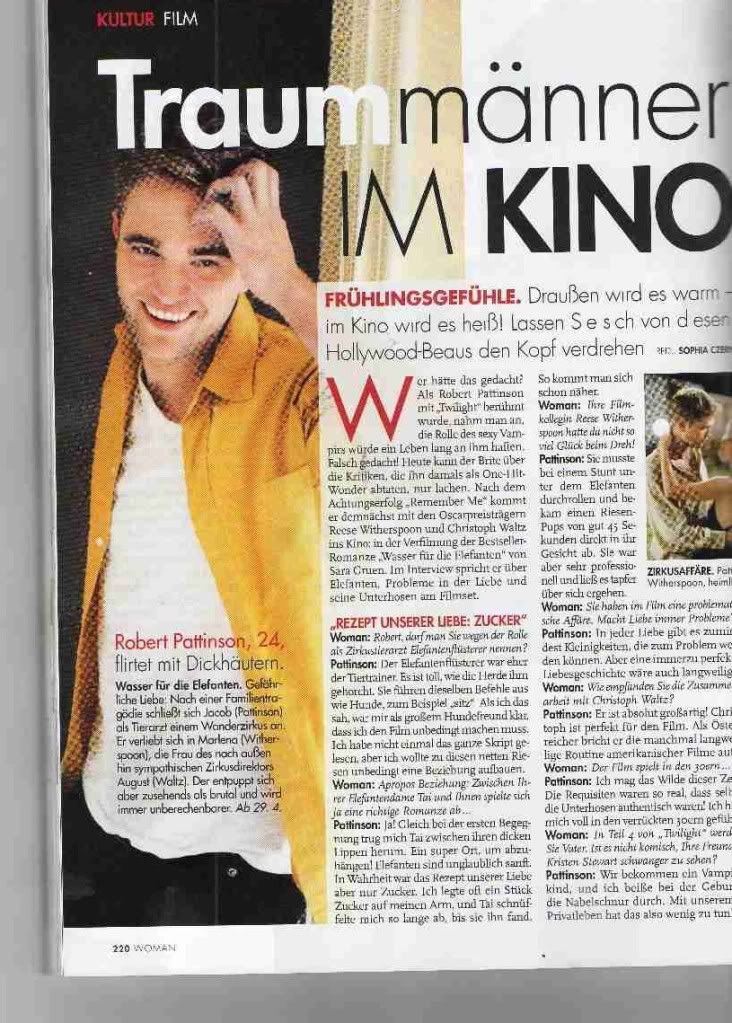 Translation:
Who would've thought? When Robert Pattinson got famous with "Twilight" one thought the role of the sexy vampire would forever be his trade mark. False! Today, the sexy brit can only laugh about the critics that called him a "One-Hit-Wonder". After the success of his movie "Remember Me" he'll be on the big screen in the next few weeks, with the academy award winners Reese Witherspoon and Christoph Waltz: in the adaption of the Sara Gruen's bestseller "Water for Elephants". In this interview he talks about elephants, problems with love and his undies on the movie set.
Woman: Robert, can we call you "elephant whisperer" because of your role as a circus vet in this movie?
Pattinson: The animal trainer was more of an elephant whisperer. It's amazing to see how they all obey him. They do the same routines dogs do, for example the "sit". When I saw that I knew, as a dog lover, that I had to do this movie. I hadn't even read the script but I wanted to have a connection or relationship with this nice giant.
Woman: Apropos relationships: Between you and Tai there's a real romance going on…
Pattinson: Yes! When I first saw her she carried me around between her huge lips. An awesome place to chill out. Elephants are extremely gentle. To be honest, the essence of our love story was sugar. I often put a sugar cube on my arm and Tai sniffled me till she found it. You really become closer that way.
Woman: Your partner, Reese Witherspoon didn't have such luck!
Pattinson: In one scene she had to roll under the elephant and she got a huge fart that lasted about 45 seconds directly into her face. But she was very professional and just endured it.
Woman: In the movie you're caught in a problematic affair. Does love always cause problems?
Pattinson: In each kind of relationship or love there are at least little things that can turn into problems. But a perfect love-story would be boring.
Woman: How did you like working with Christoph Waltz?
Pattinson: He is absolutely brilliant. Christoph is perfect for the movie. As an Austrian he sometimes breaks up the boring routine of American movies.
Woman: The movie is set in the 30s…
Pattinson: I love the "wilderness" about that period. The props were so real, even the underpants were authentic! I really felt set back to the crazy 30s…
Woman: In the fourth part of the Twilight Saga you're becoming a father. Isn't it a bit weird to see your girlfriend Kristen Stewart pregnant?
Pattinson: We're having a vampire baby and I'm biting through the umbilical cord during the birth. This has few to do with our private life.