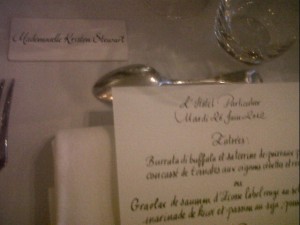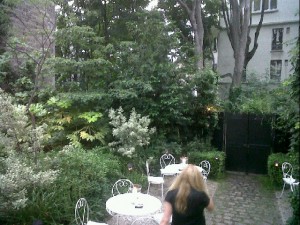 JimShi809
Tonight ‪#Balenciaga‬ celebrates ‪#KristenStewart‬ with a dinner in Paris in her honor! Which runway look will she wear? ‪#kstew‬ ‪#PFW‬
Fashion Canada
At tiny garden party for Balenciaga's new scent, Kstew looking lovely in powder blue dress. - Kristen's place setting for tonight's private dinner. -SD. Vibe at Balenciaga is very Chateau Marmont. Now playing: LDR's Video Games.
@Kstewcrush she was flying solo tonight. We interview her tomorrow so stay tuned for a post on that.
JessicaMichault
(Editor-in-Chief, NowMag) Back to Paris from the Milan menswear shows. Quick change into dinner attire and now I am off to the @balenciaga dinner for Kristen Stewart. Just a quick shout out to Kristen Stewart before I head home-It has been a while since I had such a real and honest conversation with a star. In the future I promise Kristen to believe what you tell me. Next time lets try running in those heels! supercalifragilisticexpialidocious!
Sorry, nope. @JessicaMichault is Robert Pattinson there at the Balenciaga honor dinner?
KSFranceCom
Kristen is in Paris, for the official presentation of the new Balenciaga. Dinner time! Filming the official spot TV and photoshoot, of the new fragance for tomorrow. From our fashion source.
Via: Robstenation