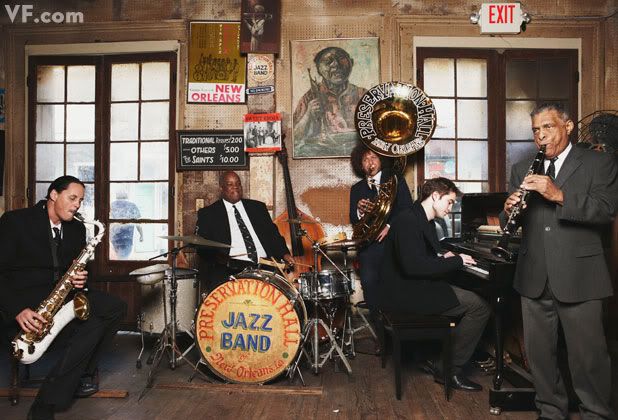 Sing us a song, piano man—let's start with "Happy Birthday." New Orleans's Preservation Hall—where Annie Leibovitz shot young Robert Pattinson, shown tickling the ol' 88 with the world-famous Preservation Hall band—celebrates its 50th anniversary this year. Situated in the French Quarter, the music venue is one of the country's most hallowed: it was founded in 1961 for the purpose of preserving New Orleans–style jazz, and indigenous American music. On his first-ever visit to the Quarter, Pattinson jammed with the house band and thoroughly held his own—his celebrity perhaps subsumed by that of the musicians, whose legendary status awed everyone on set.
"When we first started, none of us knew that Robert really does play piano," s
ays Ben Jaffe, the tuba player (center, above), the band's director, and the son of the venue's founders. "
But when he got up there, he started ticking out these notes, and it was obvious he wasn't just tinkling—he really knew how to play."
Though the musicians were expecting the actor to just pose, Pattinson gamely jammed along with their tunes. After finishing a song, he leaned over to Jaffe "
and said, 'That's the first time I've played with a group of guys like that,
'" Jaffe recalls. Not a shabby gig—especially with Jaffe's homemade red beans and rice waiting as reward.