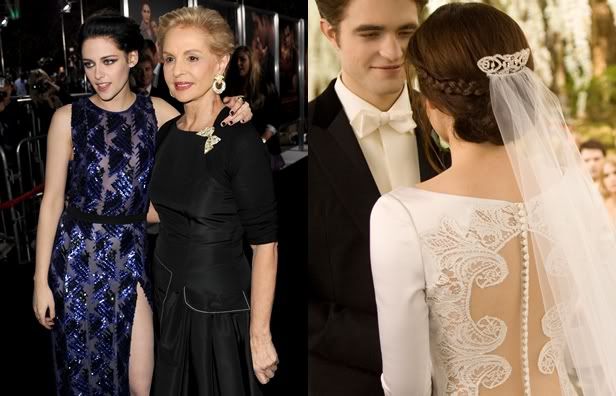 "We did three fittings.
When she initially put on the dress and looked over her shoulder into the mirror, she was very moved," Herrera tells the mag, on stands Wednesday. "In that moment she was not an actress or a character in a film but instead a bride, and a happy one at that."
The dress seen in the sketch (left) is what the designer calls a "union between Stephenie [Meyer's] description in the book and the Herrera bridal aesthetic" — something she has been perfecting for 25 years.
"I took into consideration the character of Bella and Kristen's portrayal of her, and what this fantasy character would choose to wear for the most important day of her life," she explains of the masterpiece, which retails for $35,000. "It's made of a crepe satin with two inserts on the front and beautiful silk thread topstitching. The neckline is a slight V, just enough to see the collarbones. The back is oval-shaped, with aChantilly lace border veiled in tulle. It's very romantic, and when all the details come together, it creates a vision specific to Bella's style and personality."