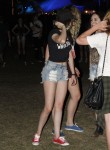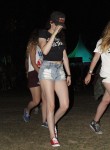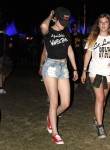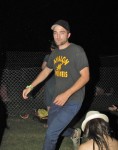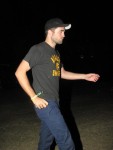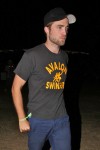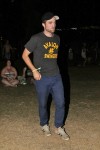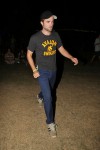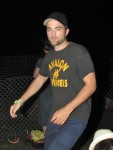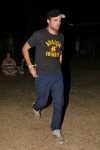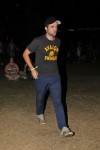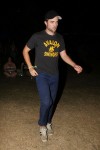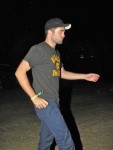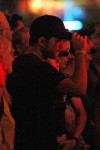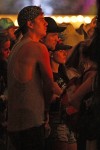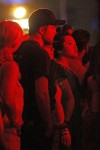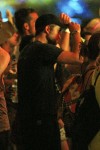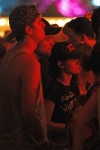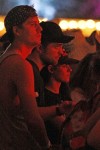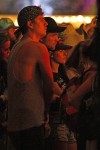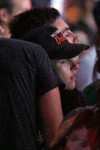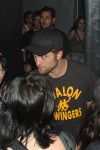 GossipCenter Drawing an end to what was quite the weekend, Robert Pattinson and Kristen Stewart were spotted trekking through the crowds at the 2012 Coachella Valley Music and Arts Festival in Indio, California on Sunday night (April 22). As for Coachellla's second weekend closing lineup, Rob and Kristen were treated to performances by acts including Florence + the Machine, The Hives, At The Drive-In and a night-capping effort by Dr. Dre and Snoop Dogg. Having been situated at the annual outdoor celebration for the past few days, Pattinson and Stewart reportedly had quite the romantic moment on Saturday night.
Joined by a few friends, the "Breaking Dawn" co-stars were side-by-side at the Empire Polo Club venue, but quickly split apart from one another upon a paparazzo's arrival.
@nycrk1
Kristen Stewart is wearing a vintage Edgar Winter White Trash t-shirt
@courtjustice Robert's t-shirt definitely looks like a novelty tee from a vintage shop. Shoes are PRO-Keds, blue Dockers pants & FlFlexfit hat.
Fanpics
"Watched Florence & the Machine from backstage w/ only 4 other ppl. Two were Katy Perry & Kristen Stewart #coachella"
from
jgiantonio
| via
vonch |
source2
@heatherlduprey: Just stood next to Kristin Stewart, Rob Pattinson & Katy Perry & watched Beirut! Coachella is magical
@elarajade
I may be hallucinating after my sixth day of Coachella, but I swear I'm looking at Kristen Stewart. #VIPchella4thewin
@kgreenier
: Missed seeing Katy Perry, Robert Pattinson, & Kristen Stewart checking out Beirut & a topless Joe Jonas. #Coachella mistake